Click for more information about each of the performances as part of MIJF's Export Series:
Paul Grabowsky & Emma Donovan: The Old Rugged Cross
This exciting premiere brings together two powerful forces in Australian music – pianist, composer and MIJF Artist in Residence Paul Grabowsky AO, and acclaimed soul vocalist Emma Donovan.
Donovan is best known for her work with The Putbacks and The Black Arm Band – as well as touring and recording alongside legends such as Archie Roach, Yothu Yindi and Paul Kelly – and her voice carries within it many deep currents. Her family hail from both sides of the continent, and her many musical influences reflect her early experiences singing country, as well as the rich legacy of soul music which she conveys so powerfully.
In The Old Rugged Cross, these two acclaimed artists are joined by a powerful collection of Melbourne's finest jazz musicians in exploring another side of Donovan's early influences: the gospel and hymn tunes she grew up with in communities. Alongside the title track, this performance features songs made famous by artists like Aretha Franklin and Johnny Cash, including 'Amazing Grace' and 'Will the Circle be Unbroken' – as well as songs written by Donovan's own grandfather, Micko Donovan.
Download EPK
Download Tech Specs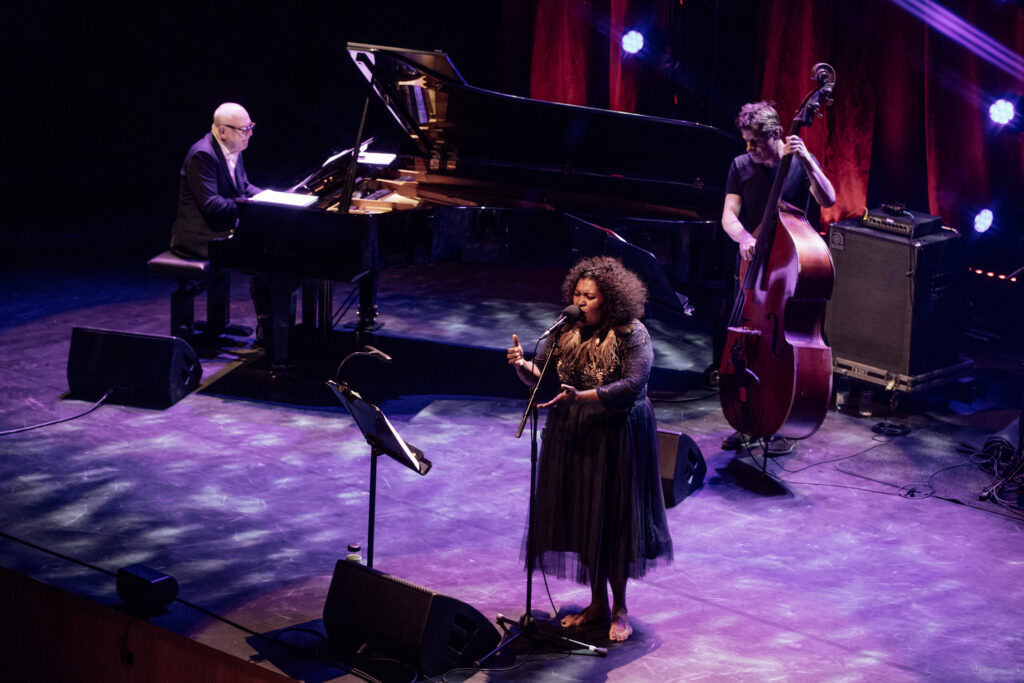 Watch performance: Paul Grabowsky & Emma Donovan
Melbourne Recital Center – Elisabeth Murdoch Hall
Friday 3 December 2021
Julien Wilson's STOCK
An electrifying quartet comprised of four of the best musicians in Melbourne, STOCK harness a decade of collaboration, and hundreds of live gigs, to craft a bold style with a distinctly Australian accent.
The group references Ellington and Coltrane while leaning into the 21st century, distilling a myriad of influences in to a multifaceted musical broth. STOCK dispel pre-conceptions of what a traditional jazz quartet can sound like. With driving drum work from Hugh Harvey, blues-drenched electric guitar from Craig Fermanis, the creativity of bassist Chris Hale and the take-no-prisoners, chameleon-esque virtuosity of Julien Wilson on saxophone, this is a joyful, freedom embracing, open-hearted exploration of sonic possibilities.
"This ensemble has the beautiful cohesion that is possible only when a band has been deep in the laboratory for many years. STOCK exemplify "science in the shed, poetry on the bandstand" – Barney McAll
Download EPK
Download Tech Specs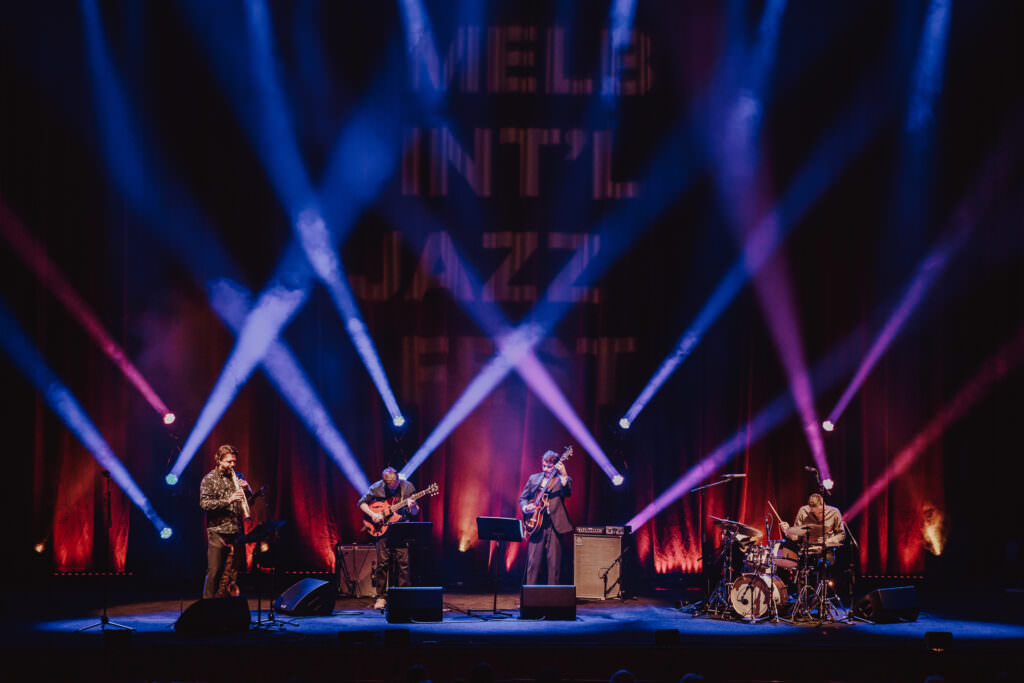 Watch performance: STOCK
Melbourne Recital Centre – Elisabeth Murdoch Hall
Friday 3 December 2021
Sam Anning Septet
In a special Festival performance, internationally sought after bassist/improviser Sam Anning launched his highly anticipated album, 'Oaatchapai'.
Following on from Anning's award-winning 2018 release 'across a field as vast as one', 'Oaatchapai' features an extraordinary ensemble and is intricately constructed, wild in interpretation, firmly rooted in tradition but constantly striving towards future modes of expression.
"I have rarely heard a more intensely beautiful album than this." – The Australian

Download EPK
Download Tech Specs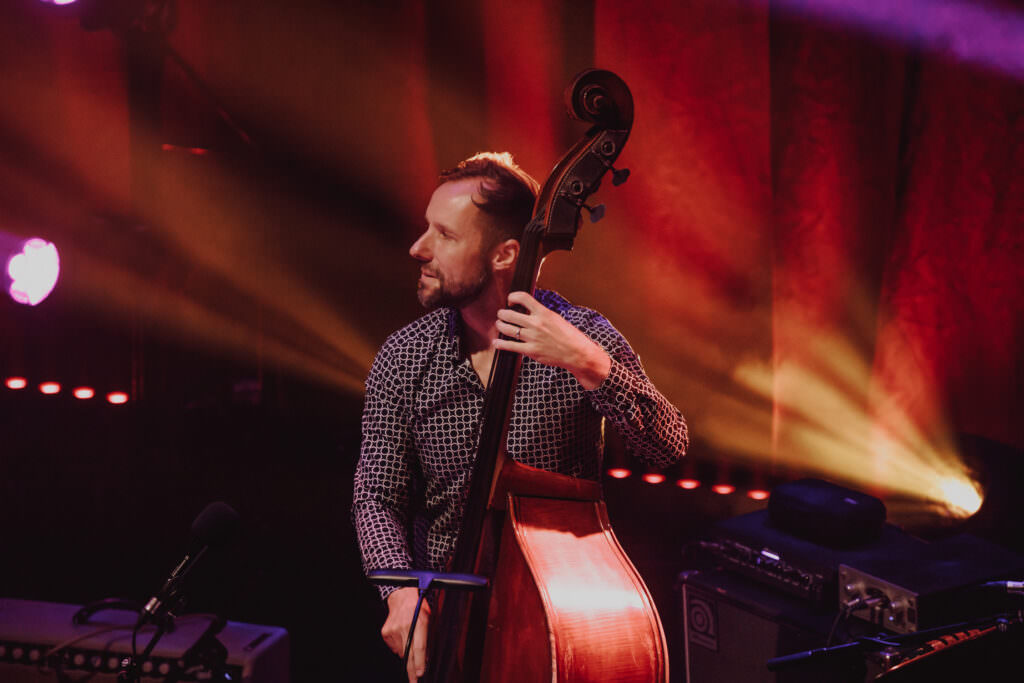 Watch performance: Sam Anning
Melbourne Recital Centre – Elisabeth Murdoch Hall
Friday 3 December 2021
Tamil Rogeon's Son of Nyx
Viola-jazz pioneer Tamil Rogeon (The Raah Project) showcases tunes from his critically acclaimed recent release, Son of Nyx. His swirling prism of exploratory modal jazz, Afro-latin percussion and string-led composition is heavily inspired by the spiritual jazz and jazz fusion movements of the 60s and 70s.
Download EPK
Download Tech Specs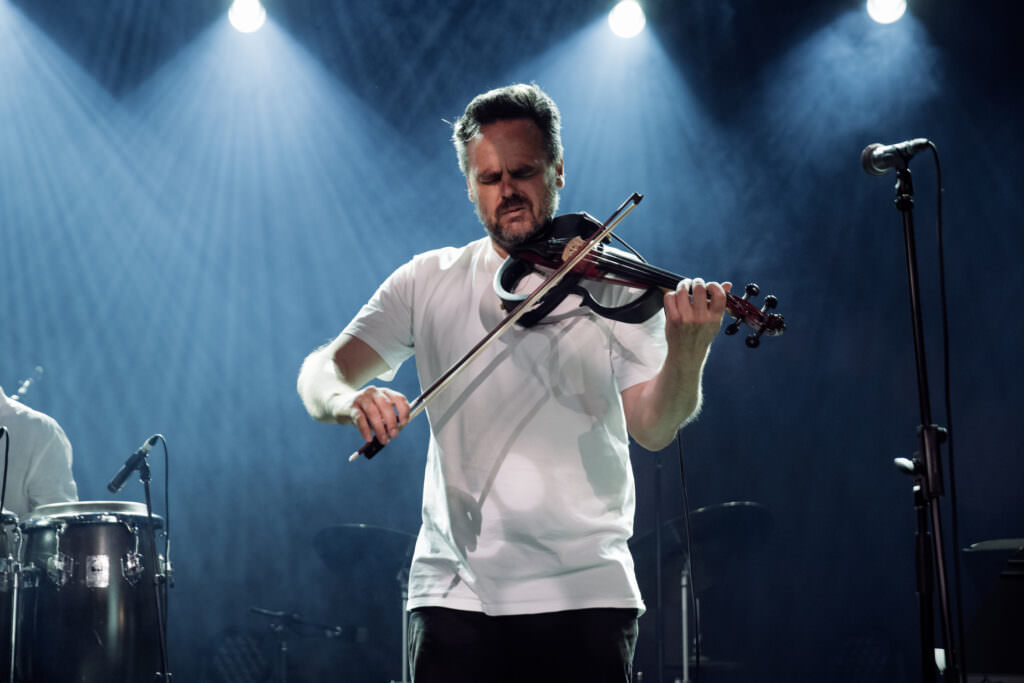 Watch performance: Tamil Rogeon
170 Russell
Friday 3 December 2021
Aura
Each member of emerging jazz supergroup Aura has their own star on the rise.
The ensemble's magic lies in the harmonious weaving together of their individual prowess, musical voices and improvisatory strengths into a seamless kaleidoscope of sounds, each composition standing on its own while contributing to the unfolding sonic narrative.
The group is riding high on the February 2021 release of their self-titled debut recorded at the Banff Centre's renowned Workshop in Jazz featuring original compositions from each of its members.
Download EPK
Download Tech Specs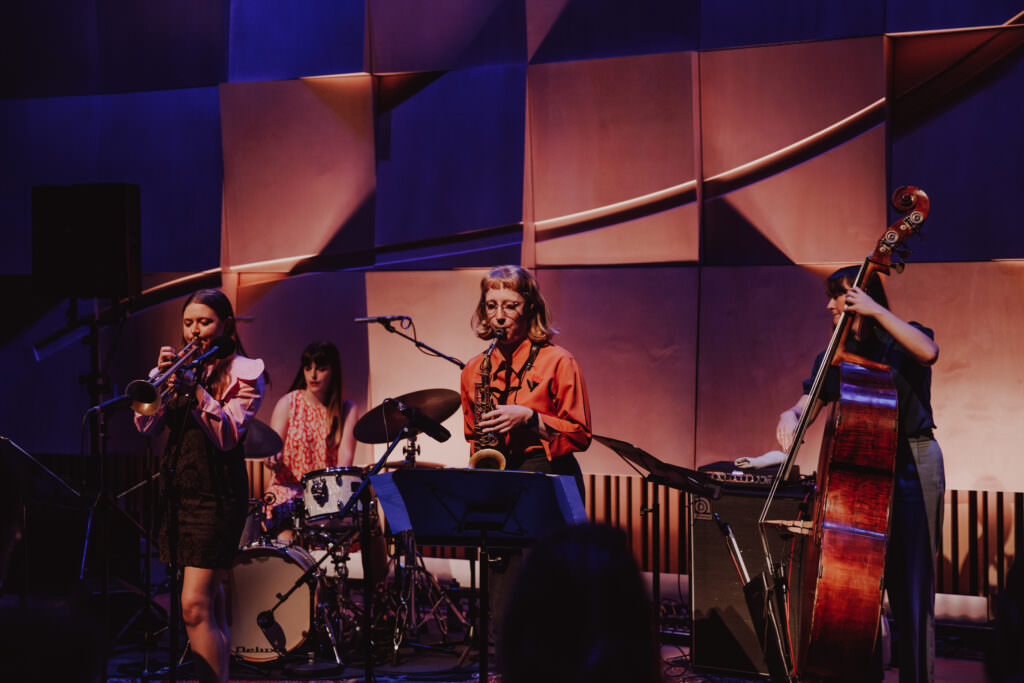 Watch performance: AURA
Melbourne Recital Centre – Primrose Potter Salon
Thursday 2 December 2021
JK Group
Spearheaded by 2019 PBS Young Elder of Jazz, saxophonist Josh Kelly, and riding high on their Music Victoria Awards nominated 2020 debut release – The Young Ones – the JK Group sees Kelly in full flight alongside his 30/70 collaborators Matt Hayes (bass) and Lucky Pereira (drums). Their follow up EP, What's Real?, released in October has cemented their place in Melbourne's renowned jazz scene and earned the praise of local and international DJs, critics and fans.
The JK Group regularly welcomes a rotating line-up of Melbourne's most respected musicians to join them on stage. In this iteration for MIJF, this already stellar group of musicians are bolstered by multi-award-winning flutist, composer and producer Erica Tucceri (WVR BVBY, Z*F*E*X), rising star Kade Brown (keys) and the brilliant Javier Fredes (congas/hand percussion).
Download EPK
Download Tech Specs
Watch performance: JK Group (from 1hr 58min 49 sec)
170 Russell
Friday 3 December 2021
Amos Roach with the Australian Art Orchestra
Award-winning musician, dancer, director and proud Djab Wurrung/Gunditjmara and Ngarrindjeri man Amos Roach premiered his new commission as part of MIJF and the Australian Art Orchestra's (AAO) inaugural First Nations artist residency program.
Amos has played the keyboard, guitar, bass and Yidaki since the age of eight, and is acknowledged as one of Australia's finest Yidaki players. Performing alongside members of the AAO and the Murrundaya Yepengna Dancers, this new work is informed by his practice using traditional instruments, songs, music and dance to tell stories of Songlines, Family and Country.
Download EPK
Download Tech Specs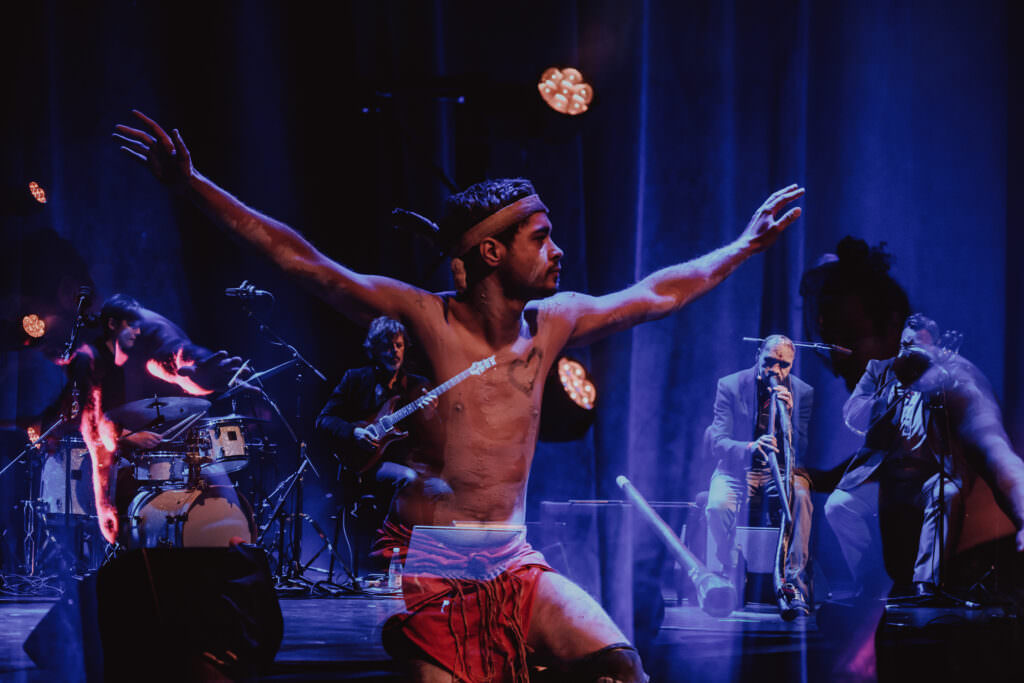 Watch performance: Amos Roach
Melbourne Recital Centre – Elisabeth Murdoch Hall
Saturday 4 December 2021